Soar Above The Skies Explore Scenic Beauty of SRI LANKA
Explore the Enchanting Skies of Sri Lanka with Hot Air Ballooning Adventures
Welcome to the breathtaking world of hot air ballooning in Sri Lanka, where you can soar high above the lush landscapes, capturing panoramic views of this tropical paradise. Imagine the gentle breeze brushing against your skin as you glide through the air, witnessing the beauty of Sri Lanka from an entirely new perspective.
Hot air ballooning is a thrilling activity that allows you to witness the beauty of the island from above. It's a magical experience that will leave you breathless, as you float high above the lush green landscapes, winding rivers, and majestic mountains.
Join us on an unforgettable adventure and discover the magic of hot air ballooning in Sri Lanka.  
Drift effortlessly above Ancient Cities with our Top Tour Packages
Our 9 day honeymoon tour is one of the luxury escorted tours, While on your honeymoon tour and holiday in Sri Lanka, Explore ancient temples, encounter friendly elephants, and savor delicious local cuisine – all while enjoying the warm hospitality of our Sri Lankans. Whether you're seeking a relaxing beach vacation or an action-packed romantic adventure, our Honeymoon tour packages in Sri Lanka have got you covered. So why wait? Book your Honeymoon tour package in Sri Lanka today and discover the magic of falling in love again in a tropical paradise together with your lover!
Sigiriya, Kandy , Nuwara Eliya, Bentota
Hot Air Ballooning, Jeep Safari, Wildlife Spotting, Scenic Train Ride, City Tours, Beach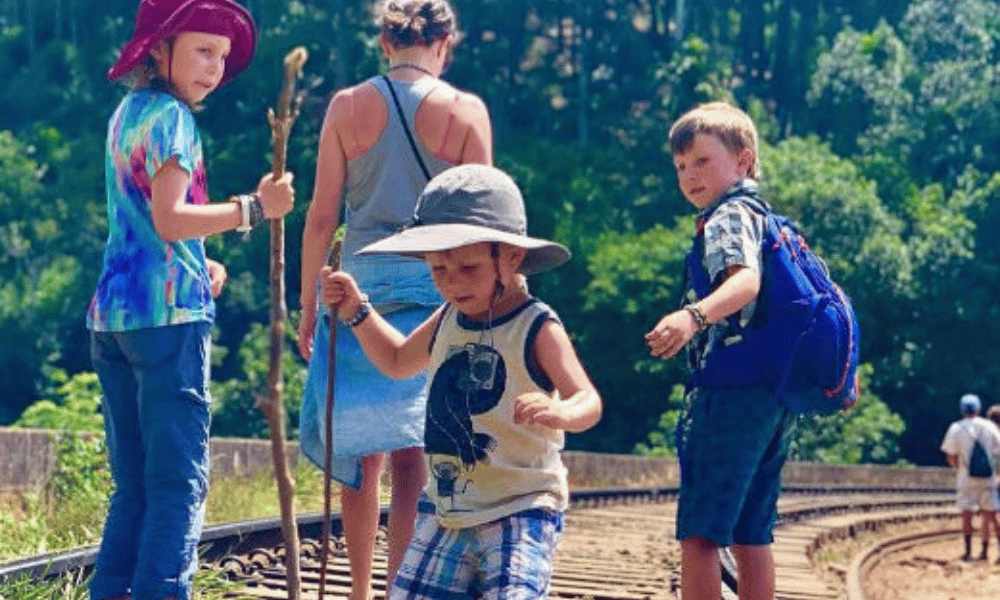 Hop on board our 10-day family tour in Sri Lanka and get ready to create unforgettable memories with your loved ones! From experiencing up-close encounters with majestic elephants and leopards in Yala National Park, to strolling in majestic cities with your family, this tour promises to be an adventure for the whole family. You'll also get to visit tea plantations and  relax on the golden beaches of Bentota. This family holiday package is sure to be an experience of a lifetime. Enjoy your stay full of memories and fun activities. So what are you waiting for? Book your Sri Lanka family tour now
Kandy, Nuwara Eliya, Yala, Bentota, Colombo
Heritage and Culture, Wildlife Safari, City Tours, Beach, Water Sports, Shopping
Ready to fully immerse yourself in Sri Lanka's wonders with a little bit of Adventure? Our 12 day tour package is the ultimate adventure extravaganza. Featuring destinations such as, Negombo, Dambulla, Sigiriya, Matale, Kandy, Kithulgala, Nuwara Eliya, Ella, Yala and finally Bentota. From scaling majestic peaks and exploring ancient cave temples to embarking on wildlife safaris and experiencing authentic cultural traditions, engage with friendly locals, and create memories that will forever remain etched in your heart.
Negombo, Dambulla, Sigiriya, Matale, Kandy, Kithulgala, Nuwara Eliya, Ella, Yala and finally Bentota
Adventure and Culture, Private and guided, Group
The Thrill of Hot Air Ballooning
Hot air ballooning offers an exhilarating experience for adventurers of all ages. Picture yourself floating gently through the air, carried by the wind, as you enjoy a bird's-eye view of Sri Lanka's diverse ecosystems. As you ascend higher, your pilot skillfully navigates the balloon, ensuring you have the best vantage points for capturing mesmerizing photographs. Feel the anticipation build as you witness the sunrise or sunset casting its golden hues across the landscape, creating a surreal and magical atmosphere.
Safety and Professionalism
Your safety is our top priority. We work with experienced and certified pilots who adhere to strict safety standards, ensuring a smooth and secure journey. Our hot air balloons are meticulously maintained and undergo regular inspections to guarantee your peace of mind throughout the adventure.
Planning Your Hot Air Ballooning Experience
Choosing the Right Season
The best time for hot air ballooning in Sri Lanka is during the dry season, from November to April, when the skies are clear and rainfall is minimal. This ensures optimal visibility and favorable weather conditions for a safe and enjoyable flight.
To make the most of your hot air ballooning adventure, we recommend planning ahead. It is advisable to make a reservation in advance to secure your spot, as hot air ballooning is a popular activity in Sri Lanka. 
What to Expect on Your Balloon Flight
Upon arrival at the launch site, you'll be greeted by our friendly and knowledgeable team. As the balloon is inflated, you can witness the fascinating process and even participate in preparing for takeoff if you wish. Once the balloon is ready, you'll board the spacious basket and the adventure begins. The flight duration may vary, but you can expect approximately one hour of awe-inspiring ballooning, during which you'll be able to take in the captivating sights and capture unforgettable memories.
Unveiling Sri Lanka's Top Ballooning Destinations
Aerial Tapestry of Cultural Richness, Dambulla, Sigiriya or Kandalama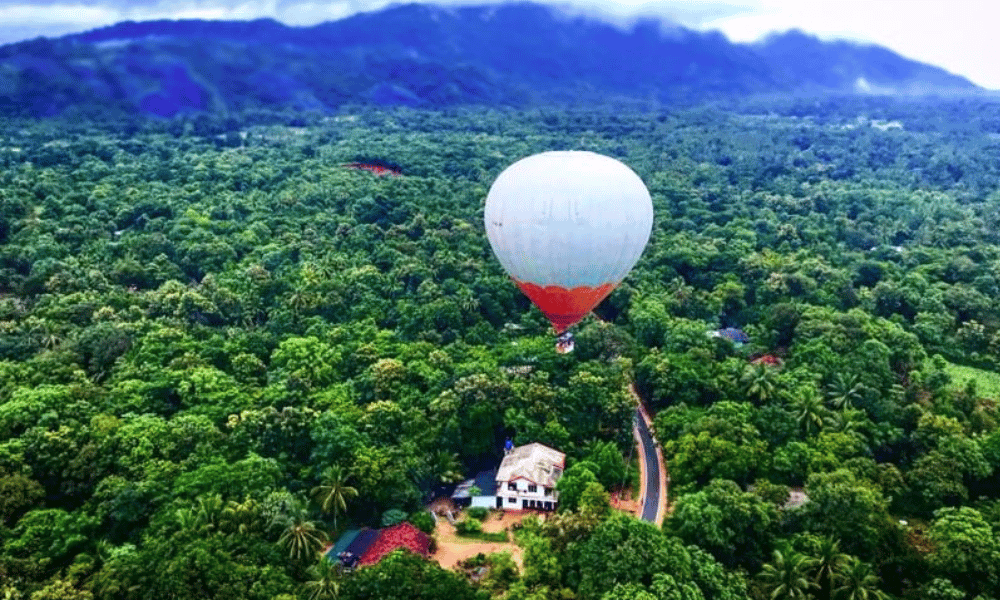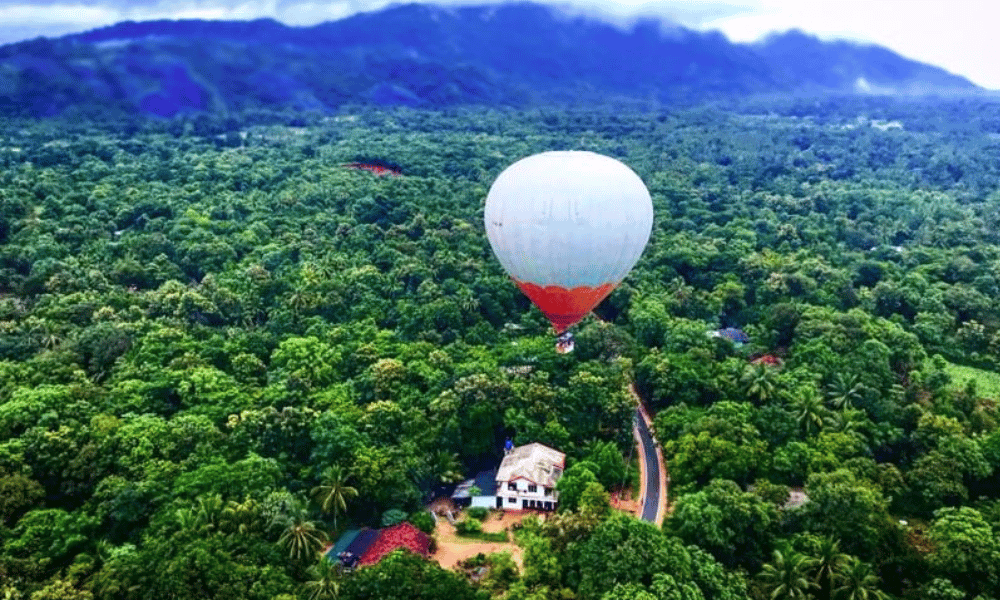 Aerial Tapestry of Cultural Richness, Dambulla, Sigiriya or Kandalama
A Ballooning Adventure to Remember
Breaking Down the Experience to you
1. Sunrise Splender
Most hot air balloon flights in Sri Lanka take place during the early morning hours to witness the magical sunrise. As the first rays of the sun kiss the horizon, you'll experience an ethereal glow enveloping the landscape, creating an enchanting atmosphere.
2. The Joy of Silence
Hot air ballooning offers a unique sense of tranquility, as the only sound you'll hear is the occasional burst of the burner and the whispers of the wind. Embrace this serene environment and let your senses come alive as you take in the panoramic views and the gentle swaying motion of the balloon.
3. Celebrate the Landing
After an exhilarating flight, it's time to celebrate a successful landing. Touching down gracefully, you'll be greeted by the enthusiastic crew who will help you disembark from the balloon. Take a moment to relish the adventure and capture memorable photographs with your fellow passengers and the vibrant balloon as a backdrop.
4. Toast to the Skies
Raise a glass and toast to the skies, as many hot air balloon experiences in Sri Lanka conclude with a celebratory champagne breakfast. Enjoy a delicious spread of local delicacies and refreshing beverages, immersing yourself in the warm hospitality and camaraderie of your fellow adventurers.
Preserving the Ballooning Environment – Let's be Responsible Travellers 
Hot air ballooning is a unique and environmentally sensitive activity. As you embark on your journey, remember to respect the surroundings and follow these guidelines
 

1. Leave No Trace
Take care to preserve the pristine beauty of the landscapes you soar over. Refrain from littering and ensure that any belongings you bring along are securely fastened to prevent accidental drops during the flight.
2.  Respect Wildlife and Local Communities
Observe wildlife from a distance, minimizing disturbances to their natural habitats. Be mindful of local communities and their cultural practices, maintaining a respectful and responsible attitude throughout your ballooning experience.
Know before you enjoy a panoramic view of Sri Lanka
Dress in comfortable, weather-appropriate clothing. It can get chilly at high altitudes, so bring a jacket or sweater.

Wear sturdy, closed-toe shoes, as you'll be landing in a field.

Don't forget your camera or phone! You'll want to capture the incredible views from above.

Arrive on time for your tour, as hot air balloons take off early in the morning.